New bridge for Fremantle
The Fremantle Traffic Bridge was opened in 1939 as a temporary structure (the fourth built at this site) and has served its function well. The bridge has been deteriorating over several years, and despite extensive strengthening and maintenance works, it needs to be replaced. The new bridge will be built on the existing alignment and will be the fifth bridge in this location.
What's happening
In response to community and key stakeholder feedback to the concept released in 2022, significant investigations and technical assessments have been progressed and a new concept has been developed.

A Development Application (DA) to progress this new approach has been submitted by Main Roads to the Department of Planning, Lands and Heritage (DPLH) who will conduct an independent public consultation period.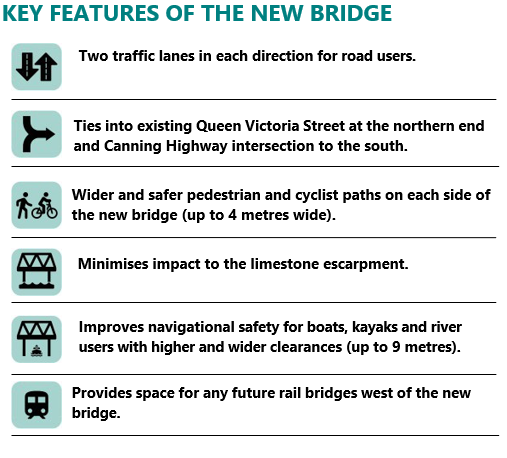 The Swan River Crossings Project is one of the most complex and challenging projects undertaken by Main Roads, involving road, port, freight, river, walking, cycling, heritage and environmental considerations.
The project will:
Replace the existing Fremantle Traffic Bridge.
Provide safe and modern standard pedestrian and cycling infrastructure over the Swan River.
Increase marine safety and navigational clearances for river users.
Acknowledge both European and Aboriginal heritage of the area through design.
Subject to Development Approval, design work will continue with investigations and testing to help develop key features of the bridge. This will continue through to the first half of 2024 before the project moves into detailed design and construction in the second half of 2024.
A construction program will be developed and will consider building the piers first to allow for the existing bridge to stay open as long as possible.
Consultation with local government, residents and businesses will be a priority to understand the impact of any construction program and put in place measures to minimise the impacts to all road users, pedestrians, cyclists, river users and the wider community.
Construction and project updates
Project information
Community Consultation Summaries
Fact Sheets
Videos
Media Statements
Funding
The project is funded by the State ($140 million) and Commonwealth ($140 million) governments.
Next phase of community consultation begins for Swan River Crossings Project
Design phase begins for Swan River Crossings Project
Previous Community Consultation
STAKEHOLDER AND COMMUNITY ENGAGEMENT TIMELINE
April 2019: The Minister for Transport released a media statement New-Fremantle-Traffic-Bridge-funded-in-State-Budget
July 2019: Initial individual meetings held with key stakeholders during August, September, and October to provide a project briefing and identify issues and constraints. More than 100 constraints were identified.
30 October 2019: A key stakeholder workshop was held with representatives from City of Fremantle, Heritage Council, Department of Transport (Urban Mobility, Marine and Safety and Freight, Ports, Aviation and Reform), Fremantle Ports, Office of Government Architect and Westport, Public Transport Authority, Department of Fisheries, Town of East Fremantle, DBCA, DPLH, and WA Port Operations Task Force. The aim was to ensure stakeholders understood the various constraints to assist in mitigating conflicting expectations.
October – December 2020: Whadjuk Working Group and Aboriginal Elders
Cultural context workshops were held to capture stories to use in Aboriginal heritage interpretation.
August – October 2020: Community Online Survey and Community Drop In Sessions
More than 300 people completed an online survey that sought feedback on how people use the current bridge and what outcomes they expected from the project. Three drop-in sessions attracted over 130 people, and several stakeholder briefings were held.
Community Online Survey Outcomes Report
Drop-in session poster - Overview
Drop-in session poster - Heritage, stories and design
October 2020: Community Forum
The first forum explained the project objectives, constraints and the rationale for the bridge alignment to a group of key stakeholders and community members.
Swan River Crossings Alignment Forum Oct 2020 - Presentation (PDF)
Swan River Crossings Alignment Forum Oct 2020 - Summary (PDF)
Previously considered alignment option maps for road and rail bridges (PDF)
November 2020: Community Forum
The second forum of the same stakeholders focused on the various bridge alignment options including options from the City of Fremantle and a detailed explanation of the current traffic bridge condition.
Swan River Crossings Alignment Forum Nov 2020 - Presentation (PDF)
Swan River Crossings Forum Nov 2020 - Summary (PDF)
Swan River Crossings Alignment Forum Nov 2020 - Response to Rail Capacity Concerns and Questions (PDF)
May 2021: Community Forum
This forum of invited stakeholders and community members provided an opportunity to share and discuss the four alignment options under assessment and to promote the future community and stakeholder engagement activities.
Swan River Crossings Alignment Forum May 2021 – Presentation (PDF)
Summary of Alignment Options May 2021 (PDF)
May 2021: Proposed Alignment Options
Four proposed bridge alignment options were released for public comment, using forums, workshops, community pop-ups, materials, face-to-face meetings, and an online visualisation tool which showed the options in 3D.
Almost 1,000 people responded to the survey and feedback was collated and analysed.
Community and Stakeholder Engagement Outcomes – Proposed Bridge Alignment Options - June 2021 (PDF)
Alignment Options Assessment Survey Outcomes Report – June 2021 (PDF)
August 2021: Community Design Consultation
Community design forums and an online design survey gathered input into the bridge design, amenity on the north and southern foreshores, heritage interpretation, and walking and cycling connectivity across the Swan River.
All feedback has been used to influence the project design and placemaking considerations.
Please contact us if you wish to view the recording of our online Community Design Forum.
Since 2019, we have engaged with the Whadjuk Elders Advisory Group to help us understand the significance of the area to the Whadjuk people and themes and stories that could be interpreted throughout the bridge design.
The Whadjuk Elders have highlighted the importance of minimising the number of piers in the river to maintain flow of water. Removing obstructions (piers) in the river will renew and enhance the long Aboriginal connection to the area, with unimpeded water flow preserving Aboriginal Songlines and Dreaming Stories, while allowing the Spirits to flow along the river out towards Wadjemup (Rottnest Island).
The existing Fremantle Traffic Bridge was the fourth built in the area. As a way of celebrating and recording the heritage of the bridge, we will undertake a 3D digital capture of the entire bridge and its surrounds and are currently exploring ways to make this readily available to the community, and for generations to come.
Construction and project updates
Fact Sheets
Project information
Media Statements