Heritage
Aboriginal Heritage
Our Aboriginal heritage process ensures we comply with the Aboriginal Heritage Act 1972 (WA). We work closely with other state government agencies including the Department of Planning, Lands and Heritage (DPLH) and the Department of Premier and Cabinet, as well as Aboriginal people, to ensure our Aboriginal heritage processes are robust.
We aim to avoid, minimise, and reduce our negative impacts to Aboriginal heritage sites wherever practicable. Activities are screened for potential impacts in compliance with the DPLH Due Diligence Guidelines using our internal Heritage Risk Assessment process. Where this process identifies a potential risk of impact to an Aboriginal heritage site, further investigations are undertaken.
The input and contribution of Traditional Owners are highly valued, and we seek their advice and opinions regarding potential impacts via heritage surveys and other consultation processes. In our endeavour to protect Aboriginal cultural values we liaise with other stakeholders including Prescribed Body Corporates, Native Title Representative Bodies and Aboriginal Corporations.
Where it is not possible to avoid impact to an Aboriginal heritage site, we consult with the Traditional Owners and seek their comments and support. Works will not progress without approval from either the Registrar of Aboriginal Sites or the Minister for Aboriginal Affairs.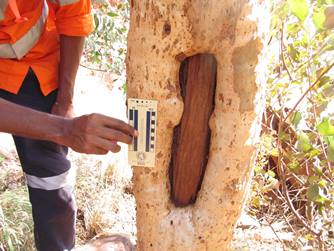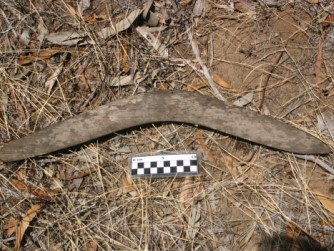 Images: A culturally modified (scarred) tree and a boomerang found during a field survey
Where our works have a short-term impact on an Aboriginal heritage site, we consult with the relevant Traditional Owners and an application under Regulations 7 and 10 of the Aboriginal Heritage Regulations 1974 is submitted for approval by the Registrar of Aboriginal Sites. Where the impacts have the potential to be significant, an application under Section 18 of the Aboriginal Heritage Act 1972 (Section 18 consent) is submitted for approval by the Minister for Aboriginal Affairs after a heritage survey and consultation has been undertaken. For further information on Aboriginal heritage approvals please refer to our Annual Report.
Consultation with Aboriginal community representatives is important to understand the extent and significance of heritage places, particularly when not yet adequately recorded. We were the first government agency to execute the Noongar Standard Heritage Agreement as part of the South West Native Title Settlement (SWNTS) Indigenous Land Use Agreement. The SWNTS area covers all of Main Roads South West and Metropolitan regions and sections of our Wheatbelt, Great Southern and Midwest – Gascoyne regions. The SWNTS area is shown on this map.
In 2021, 450 Heritage Risk Assessments were undertaken and 190 of these (42 per cent) required further investigations that included consultation with Traditional Owners, consultation with DPLH, ethnographic surveys, archaeological surveys or a combination of more than one of these.
In addition, 50 Aboriginal heritage surveys (ethnographic, archaeological or a combination of both) were conducted across Western Australia with 34 different Aboriginal groups.
Native Title
We comply with the processes and responsibilities under the Native Title Act 1993. Native Title obligations are addressed early in project planning, notifying and, if applicable, we receive comments from Prescribed Body Corporates, Registered Native Title Determination Applications and Native Title Representative Bodies (Land Councils) with whom we aim to establish and maintain a good relationship. Our road network transects the following Areas of Native Title Claims and Determinations.
Historic Heritage
Historic heritage sites (sometimes referred to as European Sites), are locations or objects that are deemed to be significant due to their aesthetic, historic, scientific or social attributes. Historic places include buildings, gardens, structures (including bridges), industrial sites and cemeteries. Historic places in WA are protected by the Heritage Act 2018 (WA; HA).
We fully comply with the HA and the requirements such as the Government Heritage Property Disposal Process. We undertake Historic heritage surveys during the planning process to determine what impacts our works will have on the State's heritage and how these impacts can be minimised or removed.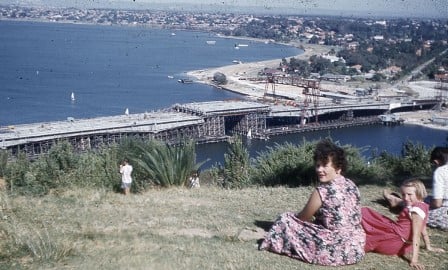 Image: Narrows Bridge under construction during 1960-61