Sustainability
Sustainability is the commitment to 'creating lasting benefits through an integrated consideration of social, environmental and economic aspects in all that we do'.
For us, it really means meeting the needs of today without compromising the needs of future generations.
Our Sustainability Policy outlines our commitment to delivering sustainable road and transport infrastructure and is underpinned by six key aspects:
Sustainable Transport
Climate Change
Environmental Footprint
Behaviour
Governance & Performance
Funding & Financing
These aspects were determined through consultation with our Transport Portfolio partners and various industry stakeholders.
Our Policy and interpretation of sustainability is based on the definitions within the State Sustainability Strategy 2003.
At a National level, our work continues to assist Australia to achieve its obligations as a signatory to international conventions such as the United Nations Paris Agreement and the Sustainable Development Goals.
Spotlight on Sustainability
Our Spotlight on Sustainability highlights some of the work we're doing to deliver a transport network that meets social, economic and environmental needs.
Crushed Recycled Concrete
Crushed Recycled Concrete was recently trialled on our Kwinana Freeway Northbound Widening and Murdoch Drive Connection projects under full-depth asphalt, with some of the recycled material coming from the Subiaco Oval demolition.

We collaborated with the Department of Water and Environmental Regulation, the Waste Management Authority and industry to develop specifications.

Through the Western Australia Waste Authority's Roads to Reuse Initiative, we are committed to using recycled construction and demolition materials in our projects. We have currently used 46,000 tonnes of Crushed Recycled Concrete across the state network, with this figure set to increase as a number of our projects are to use the material in the near future.


Crumb rubber is produced from recycled scrap rubber such as waste tyres, and when combined with bitumen produces a highly durable road construction material. In sprayed bituminous seals, crumb rubber modified bitumen reduces oxidation and improves stone retention and can mitigate against some types of cracking. In asphalt mixes, crumb rubber modified bitumen reduces reflective cracking and improves stripping resistance. Crumb rubber modified bitumen is used in high traffic volume environments, on bridge decks, over existing cracked road surfaces and where cracking of the road surfaces is expected.
The use of crumb rubber is high on our sustainability priorities, as it provides better performance and better durability as well as reduce scrap rubber from going to landfill.
In 2019-20, approximately 1,900 tonnes of crumb rubber was used on the state road network. This is equivalent to 380,000 car tyres! Crumb rubber modified asphalt was used across the metropolitan area to resurface key routes including Kwinana Freeway, Leach Highway and Roe Highway.

Crumb rubber modified open-grade asphalt was also used on a 3 km section of the Mitchell Freeway Widening. BMD Constructions completed this work with Fulton Hogan undertaking the asphalting. This was the first use of Main Roads' new crumb rubber asphalt specifications within a design & construct contract. The success of these works has seen us commit to further increase its usage of crumb rubber in 2020-21.
'Excellent' IS Design Rating for Great Northern Highway
Graham Farmer Freeway Lighting Program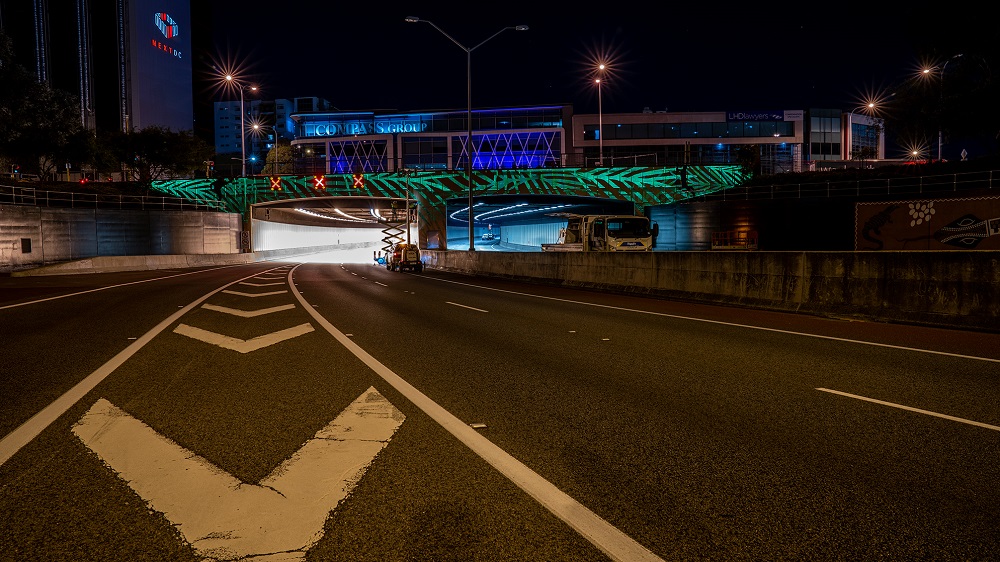 We are currently undertaking a program of works to replace all the fluorescent tubes in the Graham Farmer Freeway tunnel with LED lighting. The tunnel has undergone a number of closures this year to replace all the fluorescent tubes with the fast changing LED lighting. This work follows on from the previous upgrade of the lane use management system lighting to LED.
The tunnel currently has a combination of fluorescent tubes and high pressure sodium (HPS) lamp fittings. These include 3094 fluorescent fittings and 483 HPS lamps, which were installed when the tunnel opened in 2000. Through this program of works, each 58watt fluorescent light fitting will be replaced with a 17.5watt LED light fitting. LED lights have a life expectancy that is two to four times longer than fluorescent lights. This enhances both the economic and environmental sustainability of the lighting. Economically, the lights require changing less frequently making them more cost efficient. Environmentally, the lighting change reduces our annual Greenhouse Gas (GHG) emissions across the network by two percent, as we reduce our carbon dioxide emissions by 648 tonnes a year.
The next steps in rolling out LED lighting in the entire tunnel is to design and test an LED light alternative as a direct replacement for the HPS lamps. This is underway, and expected to be complete in the near future. Following this, a program to build and then replace the HPS lamps will be rolled out, ensuring the Graham Farmer Freeway tunnel is completely lit by LED lighting. This expected to significantly further reduce GHG emissions produced through our operations.
The lighting in the tunnel is designed and installed to Australian Standard AS 1158.5. This means that the lighting adapts to outside ambient lighting levels. During the day the entrances to the tunnels and the exits are most brightly lit. These levels are reduced at night and allow your eyes as a driver to adapt in each scenario. The light levels in the interior section of the tunnel are reduced to a functional level. That is why there is more lighting at the entrances and exits of the tunnel than through the interior. The below graphic demonstrates this.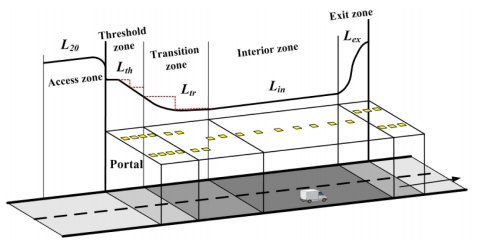 Kwinana Freeway Foreshore Management
We have deployed two Acoustic Wave and Current monitoring devices (AWAC's) into the Swan River in order to measure wave heights and current in the area. The collected information will be used to calibrate wave models for the area which will be used as part of the investigation of different options to protect Kwinana Freeway Foreshore.
Kwinana Freeway Foreshore area provides recreational facilities, includes the Milyu Nature Reserve and Marine Park, one of three areas of tidal flats that are important habitats for waders, and is an important transport corridor with road, rail, and cycling and footpaths. Given this sensitive environmental and stakeholder context, it is important that options for adapting a solution to its ongoing management is appropriately considered given that the environmental conditions impacting this area are considered to be changing.
We are overseeing the deployment of the devices, and collaboration with Department of Transport was needed to assist in a successful deployment prior to winter. Before the devices could be deployed a permit for installation was required from both Department of Parks and Wildlife as well as from Department of Transport Marine Safety. The monitors are located in the Swan River near Como jetty and near Lyall Street.
These two devices will be deployed for a three month period before being retrieved and the data downloaded. As part of the deployment, we surveyed the location of the devices so that the wave heights could be related to AHD. As part of the exercise the survey crew worked closely with the contractor engaged to deploy the devices to come up with a method for getting the most accurate survey results. At the high priority location (near Como jetty) a newer version of the AWAC called a Signature 1000 will be deployed for a further two years to provide more data.
Recycled Materials Reference Guide
We have developed a Recycled Materials Reference Guide that outlines different recycled materials that have been or potentially may be used for road construction and maintenance, and opportunities where these materials may be incorporated into future Main Roads projects.
The use of recycled materials in our road projects is expected to facilitate the development of the circular economy. A key part of the circular economy is to reuse, recycle and re-manufacture construction and demolition materials rather than sending them straight to landfill.
The guide outlines the use of materials including crushed recycled glass, Alcoa red sand, crushed recycled concrete, mining waste (overburden), reclaimed asphalt pavement, and crumb rubber. This Reference Guide details the corporate commitments, under the Waste Authorities 'Waste Avoidance and Resource Recovery Strategy 2030', Main Roads have made regarding the use of specific recycled materials. The key Main Roads specifications that outline the appropriate use of these products within Main Roads projects and maintenance programs are also included in the Guide.