Bunbury Outer Ring Road (BORR) will provide an alternative route around Bunbury and separate local and regional traffic. BORR will be built in three sections:
Northern Section - Forrest Highway to Boyanup Picton Road
Interchanges will be constructed at Forrest Highway, Raymond Road, South Western Highway, Waterloo and Willinge Drive.
There will be a full connection at South Western Highway, providing better access for Bunbury CBD and Ferguson Valley.
Central Section - Boyanup Picton Road to South Western Highway
Completed in May 2013, the four-kilometre Central Section included the extension of Port Access Road (Willinge Drive).
Willinge Drive, one of the larger interchanges, will provide access to Bunbury Port. We're also planning to extend Willinge Drive to South Western Highway, providing new access for the timber industry.
Southern Section - South Western Highway to Bussell Highway
The Southern Section will include interchanges at Bussell Highway and Centenary Road, and a connection to Jules Road.
Check out our latest video for a visualisation of the project and the benefits and opportunities for the region.
27 km
key transport corridor
November Project Update
Traffic on Raymond Road will soon be switched onto a temporary diversion to allow for the construction of the new interchange.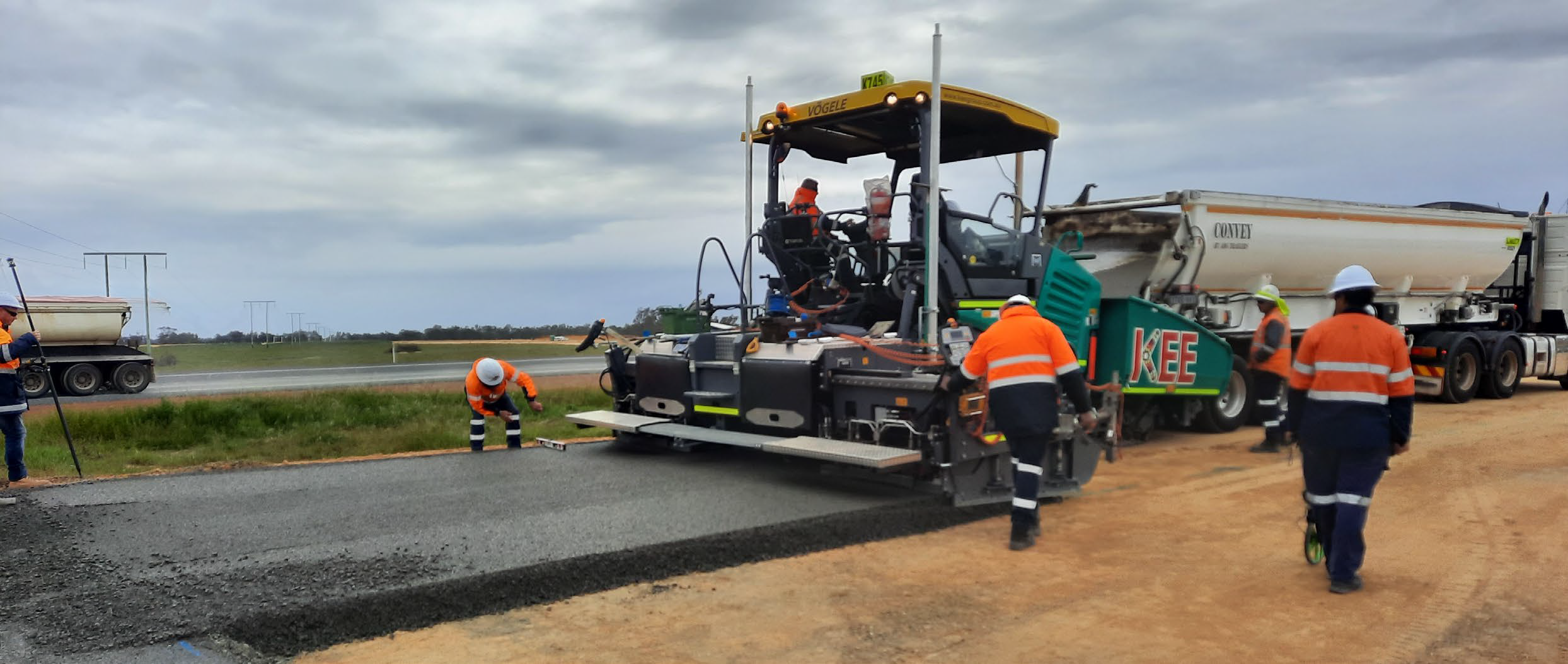 At the Waterloo Road project site, we have done some test pitting recently to validate our topsoil thickness and foundation treatments with good results. We also have started establishing our site compound in this area.
Finally, at the Boyanup/Picton project site, we have established our stockpile area and started topsoil stripping for future bridge works in the area.

For more information, view our November Project Update (PDF).
State Assessment for the Southern Section
The EPA have published a report recommending approval of the southern section to the Minister for the Environment, who will make the final decision. For further information, view the assessment under the Approvals tab on the BORR Environment page.
BORR Employment Portal
We have now launched our centralised employer and jobseeker platform – BORR Jobs! This platform is the gateway to job opportunities and recruitment on the Bunbury Outer Ring Road (BORR) project.
View our how-to guides below to get started:
Visit BORR Jobs to find out more and create your jobseeker or employer profile today.
Property condition reports
We recently offered property condition surveys to homes located within 100-150 meters of our project boundary in the northern and central sections. If your home is located within this area, you will receive a notification in the mail with an offer for us to complete a survey at no cost to you.
A few important things to note about property condition surveys include:
It is not essential you receive a property condition survey however they are carried out to protect you in the rare case that there is damage to your home as a result of construction.
Property condition surveys are paid for by the South West Gateway Alliance and come at no cost to you.
The survey will involve photographs being taken at your property focussing on existing cracks and damage caused by the natural settling of your home over time.
If you have received a letter and want to verify its authenticity, or you would like more information, call us on 138 138, or email enquiries@mainroads.wa.gov.au.


Golding Crescent between Martin-Pelusey Road and Nicholson Road

Closed from 17 November 2021 to 16 March 2022
Access will be maintained throughout the area using surrounding roads
Visit the Travel Map to help plan your journey
April 2018: Project planning study began
June 2019: Environmental referral - Northern section
September 2019: Environmental referral - Southern section
February 2020: Project planning study completed
Late 2020: Contract award
2021: Construction starts (once all approvals in place)
Early 2024: Construction complete
Dates subject to change
Bunbury Outer Ring Road will improve access to Bunbury Port as well as existing and proposed industrial areas east of Bunbury.
A new free-flowing, rural freeway-standard road will:
improve freight efficiency
create a safer road system by removing a significant number of trucks from local roads
reduce local congestion and create more reliable journey times for all road users
add sustainable infrastructure to support Greater Bunbury's position as an industrial hub for the South West Region
generate long term job opportunities for locals
reduce travel time between the north and south of Bunbury by up to 15 minutes
allow vehicles travelling between Bussell Highway and Forrest Highway to avoid 13 sets of traffic lights and one rail level crossing
Other benefits include:
extending the service life of existing arterial roads, currently used by trucks, minimising future local upgrade treatments required
reducing the need for heavy vehicles to mix with local traffic on local roads by redirecting between 10,000 and 15,000 vehicles a day onto the new road
We employed the services of KPMG to quantify the project's direct contribution to the South West region's economy, find out more by reading their
Local Economic Impacts Summary (PDF, 606 KB)
.
Large infrastructure projects, like Bunbury Outer Ring Road, have significant ability to influence economic, environmental, social and governance outcomes and values, from a local to national scale.
When planning for new road projects, it's important to consider and identify opportunities and potential impacts prior to design and construction. The ability to influence sustainability outcomes may become more limited in some aspects at this stage.
Continuing work first undertaken during planning and development, we are integrating a number of sustainability commitments through the design and construction phases of BORR. Some of these commitments include:
Employment, training, and local business
Spending $300 million with local South West businesses
Spending $20 million with Aboriginal businesses
Employing 60+ Aboriginal full-time equivalent employees for the life of the project
Creating sustainable workforces for local businesses
Offering training and upskilling the unemployed and job transitioning community
Collaborating with TAFE and other local training organisations
Providing internal mentorship opportunities for future female leaders
Construction
Minimising waste generation and maximising reuse and recycling by using products such as crushed recycled concrete, crumbed rubber, and crushed glass to develop road surfacing, pavements and road fill
Sourcing materials from local businesses to reduce transport distances and emissions
Utilising local recycling facilities in close proximity to the project for construction waste where possible, reducing emissions and building capacity for the local industry and market
Seeking to use renewable energy options when sourcing construction equipment
Image: Truck unloading material


Environment
Reducing clearing of native vegetation and fauna habitat, with particular focus on high value areas, and seeking to improve ecological outcomes
Salvaging valuable vegetation from areas to be cleared such as orchids, grass trees and zamia palms
Constructing fauna underpasses and overpasses in line with environmental regulators' requirements that cannot be used by vehicles and offer shelter to possums from predators and allow for dense vegetation planting
Ensuring that path locations, and landscape designs, maximise the retention of trees
Developing an access strategy for vegetation and asset maintenance
Removing redundant pavement following construction and revegetating the land, or integrating it with the surrounding landscape treatment
Aboriginal Heritage and Culture
Working closely with Aboriginal heritage monitors to identify significant areas or items and promote heritage values
Creating urban design outcomes that include significant Aboriginal cultural components, such as integrated artwork, interpretive signage, naming of project aspects, trails and nodes
Inviting Traditional Owner representatives to review and provide comments on the strategy, artist briefs, concept design and developed design stages of the artwork.
For all feedback and queries relating to Aboriginal Heritage and Culture on the project, please call 138 138 or email
enquiries@mainroads.wa.gov.au
Image: Heritage monitors

Design
Embracing technology to make roads safer and more efficient
Maximising network efficiency for all road users (vehicles, freight, cyclists, and pedestrians) and encouraging active transport
Incorporating gateway entrance statements to promote tourism in Bunbury and other local areas.
Providing lighting that provides wayfinding and visual connectivity to the City of Bunbury
Using colours on feature elements, aesthetic treatments and bridge structures which reflect local themes as well as provide visual connections to the Bunbury City and Port.
Permanent lighting to be energy efficient LEDOptimising design to reduce the use of materials and resources such as imported fill, concrete, steel and water
Social
Engaging with local primary and high schools to promote careers in the STEM industries
Giving community members the opportunity to engage while we develop Urban Design and Landscaping choices on the project
Consulting with local government on local road access and with residents when this access may change
Image: People attending a Community Hub

We will keep the community updated as progress is made on these sustainability goals. To view the full list of sustainability commitments for the project, access our
Bunbury Outer Ring Road Sustainability Targets Register
, approved by the Infrastructure Sustainability Council of Australia.
Subscribe for updates
or join our
Community Facebook Group
to stay informed.
How do I become involved in the delivery phase?
We will continue to involve the local communities, particularly in areas where construction may have an impact.
Subscribe to our mailing list now. From time to time, we will send updates and opportunities to be involved via this list.
You can call 138 138 or email enquiries@mainroads.wa.gov.au to ask a question or make a comment.
As we continue preparing work packages, we may invite community representatives to nominate for construction reference groups. If so, we will call nominations via local media and the subscriber mailing list.
What is the best way to keep up-to-date?
Subscribe to the email mailing list to receive regular project updates. Be the first to know about upcoming information sessions, opportunities and project updates.
This project page will be continually updated with information, pictures and videos of progress as we build Bunbury Outer Ring Road.
What if I have a question that is not answered here?
You can contact us with any questions by calling 138 138 and asking to speak to someone about the Bunbury Outer Ring Road. Alternatively, you can send your question via email to the project team at enquiries@mainroads.wa.gov.au.
Will the project include a Principal Shared Path?
An ultimate design was prepared as part of project development, which included a fully grade separated Principal Shared Path (PSP) along the entire length of the project. Costs and scope of works are being finalised, and we are now undertaking a review to determine the optimum network to be built as part of the project that will also allow the ultimate PSP to be built in future when required by path use from increasing population in the area.
The cycling network review will include consultation with a range of stakeholders and take into account current and future planned path networks for the Greater Bunbury area. The outcome of the review will ensure that the cycling and pedestrian infrastructure delivered during the project will be attractive to path users and provide functional connections to the existing network, while representing value for money to the community.
Project and construction updates
Check out the latest project video
Media Statements
Funding
In November 2019, the Federal government announced a boost to infrastructure funding including $283.6 million of funding being brought forward to the 2019—2020 financial year.
The Australian Government contribution to the project is $681.6 million and the Western Australian Government contribution to the project is $170.4 million bringing the total project budget to $852 million.
In April 2020, the process for the awarding of contracts for transport construction projects including Bunbury Outer Ring Road was streamlined to create more opportunities for local businesses and to protect local jobs.
Page last reviewed:  | Last updated: