Straying livestock on roads
Give animals a 'brake' and slow down at dusk and dawn.

You might know the road like the back of your hand, but you don't know when an animal might suddenly appear in front of your car.
Livestock collisions can be fatal for drivers, passengers and animals.
What can you do?
Stay alert and watch out for animals when driving, especially when they are most active during dusk and dawn.
Drive during daylight hours where possible
Drive to the conditions and reduce your speed if you see any animals
Try to avoid swerving, and be prepared to stop suddenly
Follow animal warning signs
What are we doing about it?
The 'Animal Hazard Mitigation Program' was established in 2013 to target sections of the road network with a high animal collision risk.
Since then, a number of strategies have been developed to improve safety and awareness, including:
Installing grids on road reserve fence lines
Moving watering points further back from the road-side
Installing one-way cattle gates
Improving warning signs and fencing standards
Assisting with funding for new and replacement fencing at "hot spot" areas
In 2018, we joined forces with a number of organisations to form the 'Pastoral Animal Hazard Advisory Group', to continue this important work.
Representatives include members from:
Department of Primary Industries and Regional Development;
Department of Biodiversity, Conservation and Attractions;
RAC;
Road Safety Commission;
Department of Planning, Lands and Heritage;
Pastoral Lands Board;
Pastoralists and Graziers Association WA;
Western Australia Local Government Association; and
Western Australian Police Force.
'Give Animals a Brake' education campaign
A targeted education campaign was launched in November 2020 across the Kimberley, Pilbara, Mid-West Gascoyne and Goldfields Esperance regions, designed to inform road users - including local residents, visitors, tourists and mine site workers, of the associated risks of animal crashes.
The campaign is supported by radio advertising, billboards, social media, retail panels and posters.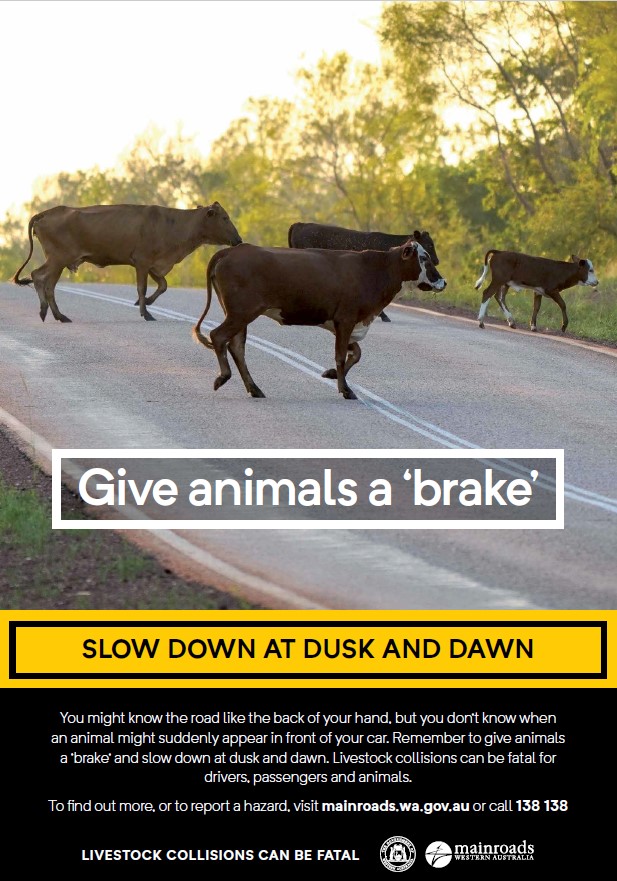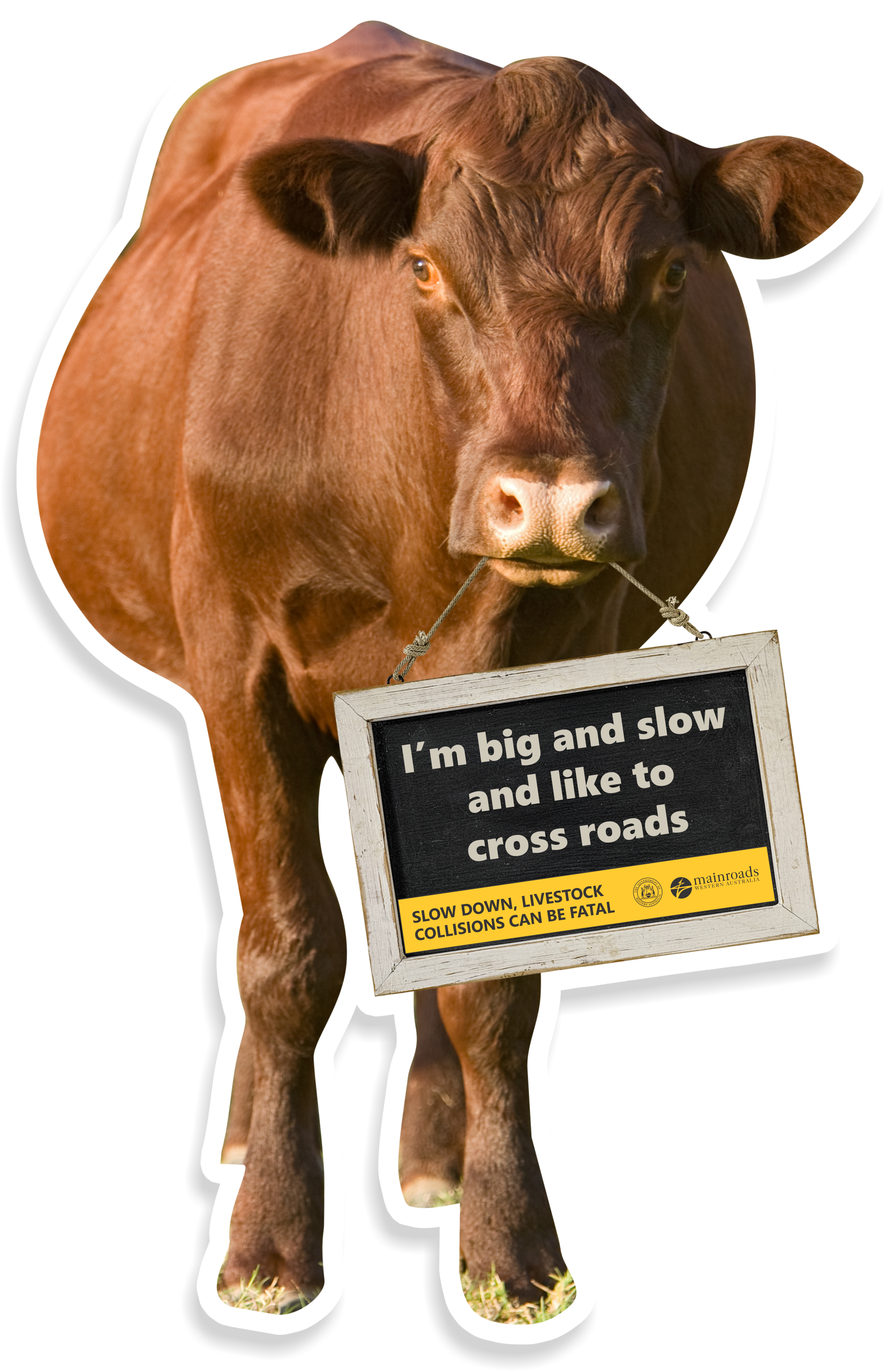 Campaign materials
Download our 'Give Animals a 'Brake' campaign materials to share the message in your community:
Are we making a difference?
Since the 'Animal Hazard Mitigation Program' started, we have seen a 23 per cent reduction in the number of cattle related crashes in pastoral regions, as well as a drop in the severity of those collisions that do occur.
Funds are available to continue the program, with an expectation of additional fencing and other mitigation measures to be implemented at known hot-spots.
We will also continue to work with pastoralists and educate drivers in an effort to get everyone to their destination safely.
Visit our regional driving conditions page to learn more about the challenges you may face when driving in WA.
23% reduction
in the number of cattle related crashes in pastoral regions
Subscribe for updates
Subscribe to our email list for updates on how we are improving safety in hot spot areas
Subscribe