How BORR's 'Green Pipes' are paving the way for Main Roads Western Australia
A trial of the 'Green Pipes' is currently underway at the Discovery Road construction site.
Published: 19 May 2023, Updated: 19 May 2023
At the construction site near the Discovery Road intersection, a new type of pipe is being installed that offers a more sustainable and environmentally friendly alternative to other piping products on the market.
'The Green Pipe' is an Australian owned business that produces pipes for the civil, agricultural and forestry industries that are made of 100% recycled plastic. The plastic supply comes almost entirely from used household milk and juice bottles. These pipes can replace concrete, fibre cement and other standard piping products, and have a 100-year product life.
The Green Pipe uses 100% recycled raw materials and has a unique low energy manufacturing process, meaning that the pipe has a carbon footprint of approximately half of its competitors. This, coupled with its light weight, and the ease of nesting and handling the pipes for transportation, adds further to the energy saving.
On the Bunbury Outer Ring Road (BORR) project, a trial of these pipes is currently underway at the Discovery Road construction site. A total of 66 metres will be laid, with each pipe being six metres in length and 37.5 centimetres in diameter.
The project's Sustainability Manager, Tim Williamson, said that the team have successfully completed the installation of the first length of recycled plastic pipe at Discovery Road and are satisfied with how the pipes have been integrated into the larger drainage network. "We are investigating other opportunities to utilise them on the project. We have been able to amend design specifications across the project to allow for the 'Green Pipes' to potentially be used at other locations," said Tim.
By completing this successful trial on BORR, Main Roads Western Australia is paving the way for this to become standard practice on future projects.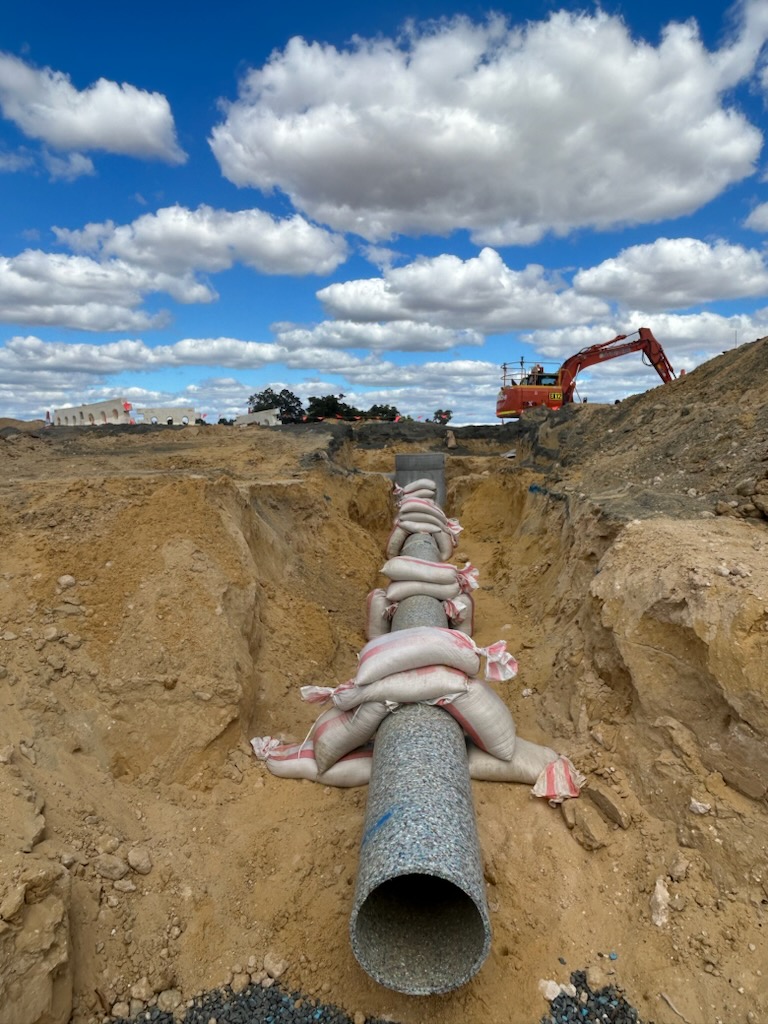 The first length of the 'Green Pipes' being installed at the Discovery Road site
Back to Projects Initiatives News