Environmental Management
Environmental Management System
Main Roads Environmental Policy outlines Main Roads commitment to environmental management principles and objectives that provide the overall intentions and direction of the organisation.
We have an independently certified Environmental Management System (EMS) to ISO14001:2015.
Our EMS covers our processes, activities and products that have a potential to impact on the environment. The EMS ensures compliance with our legal obligations and provides the framework for driving environmental and heritage requirements throughout our leadership, planning, support, operation, performance evaluation and improvement actions.
Implementation of our EMS:
Enhances our environmental performance;
Ensures we meet our compliance obligations; and
That we achieve our environmental objectives.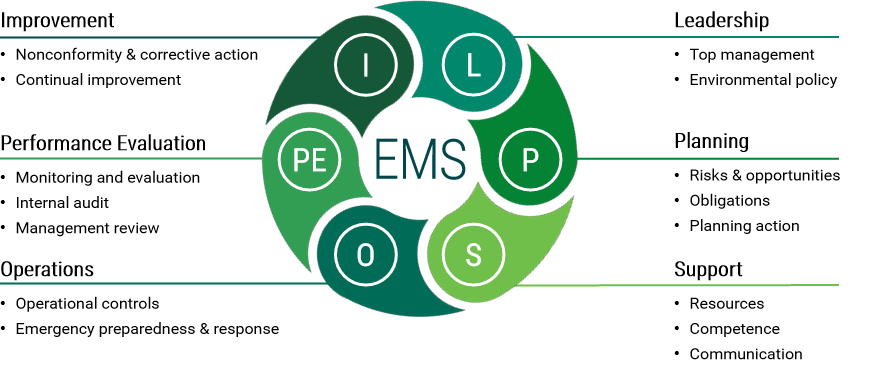 Road Safety and the Environment
In accordance with National and State Government road safety policies, Main Roads is also committed to substantially reducing road trauma on the road network through implementing Safe System principles. Crash analysis shows that more than 70 per cent of all serious crashes are due to drivers making mistakes rather than deliberate risk taking behaviour (such as speeding or drink driving). The safe system approach recognises that the road system needs to be more forgiving of driver error, requiring a collaborative multi agency approach to address the safety of vehicles, speeds and road infrastructure, whilst continuing to improve behaviour through education and enforcement.
The challenge for us is to conserve roadside vegetation and associated environmental values, including matters of national environmental significance, while still meeting the communities expectations of having safe roads. This is particularly true in the Wheatbelt region.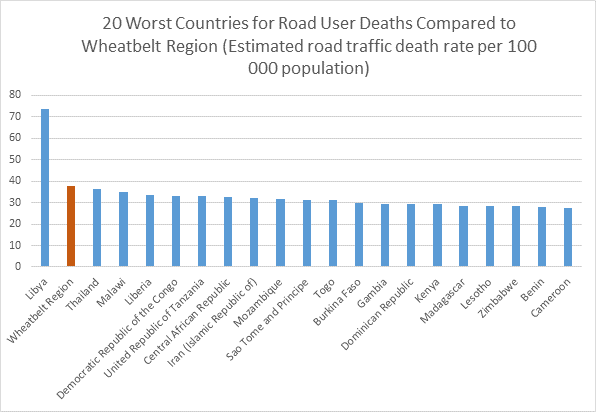 Source: WHO Global Status Report on Road Safety 2015 (180 countries measured)
Our focus on improving road safety thoroughly considers all environmental, economic and community benefits and impacts. We operate on a hierarchy of avoiding, minimising, reducing and then, if required, offsetting the environmental impacts which, in some cases, can be achieved through changes in project scope and design. We regularly reduce the clearing footprint by restricting earthworks limits for projects, steepening batters, installing barriers, establishing borrow pits (material pits) in cleared paddocks and avoiding temporary clearing for storage, stockpiles and turn around bays to avoid and minimise its impacts.
Environmental Assessment of Projects
We take a systematic approach to the environmental management of our Road Construction / Modifications activities.
All proposed works are screened for potential environmental and heritage impacts.
Where the impacts are unavoidable and rated as low impact, the activity is implemented using standard management measures. If the potential impacts are not rates as low, then the activity is subject to further investigations such as;
consultation with stakeholders and regulators
field inspections
biological surveys or
Environmental Impact Assessments.
Where the clearing of native vegetation is unavoidable and after the amount of clearing has been reduced to the minimum area required, we apply for a clearing permit under Part V of the Environmental Protection Act 1986. In December 2005, we were granted a State Wide Clearing Permit CPS 818 (CPS 818) for the clearing of native vegetation related to standard project activities and where the proposed clearing of native vegetation isn't considered to have a significant environmental impact. Where project activities aren't considered standard due to complexity, scale or nature of the works or the nature of the environmental impacts, we apply for a project specific Clearing Permit.
Where environmental impacts are likely to be significant and/or relate to more than just the clearing of native vegetation, we refer our project to be assessed by the relevant regulators:
Western Australian Environmental Protection Authority (EPA) for assessment under State legislation (Section 38 of the Environmental Protection Act 1986 (s38 EP Act)); and/or
Department of Climate Change, Energy, the Environment and Water (DCCEEW) for assessment under Commonwealth legislation (Environment Protection and Biodiversity Conservation Act 1999 (EPBC Act)).
These agencies will decide whether or not to assess the project. Where the regulator doesn't assess the project, it will be delivered in accordance with the relevant Environmental Management Plan. If the regulator does assess the project, it will be subject to a comprehensive Environmental Impact Assessment and may be open to extensive public consultation. Until the project is approved and the relevant approval conditions met, we will not implement these projects.
For further information on clearing and referrals, please refer to our 2022 Annual Report. Learn more about proposed clearing on our Clearing and Revegetation page.
Environmental Management of Road Construction
The compliance requirements to be implemented by the contractor are communicated via our
contract documentation
and implemented via their Construction Environmental Management Plans.
Visit our Tender Preparation page to see:
Specification 204 Environment Management
Specification 301 Vegetation Clearing
Specification 202 Material and Water Sources
Specification 304 Revegetation and Landscaping
We report our compliance and approval conditions to the regulators as required by the conditions of each approval.
Environmental Management in Maintaining our Network
Road maintenance involves us conducting works to reduce the rate of deterioration of our assets. This includes;
Routine maintenance including pothole repairs, sign and guidepost replacement, litter collection and other minor activities.
Periodic maintenance (activities that are cyclic in nature) including reseals, pavement rehabilitations / repairs, vegetation clearing and shouldering.
As with our road construction and modification projects, we screen our maintenance activities that have potential to impact the environment and heritage values. This screening process identifies if further assessments, surveys or approvals are required.
Environmental and heritage management requirements for maintenance activities are communicated via contract documentation and implemented and managed via environmental management documentation.