Bussell Highway Duplication​​
Bunbury to Busselton
Upgrading a 17 kilometre section between Bunbury and Busselton with new lanes, road improvements and bridge construction.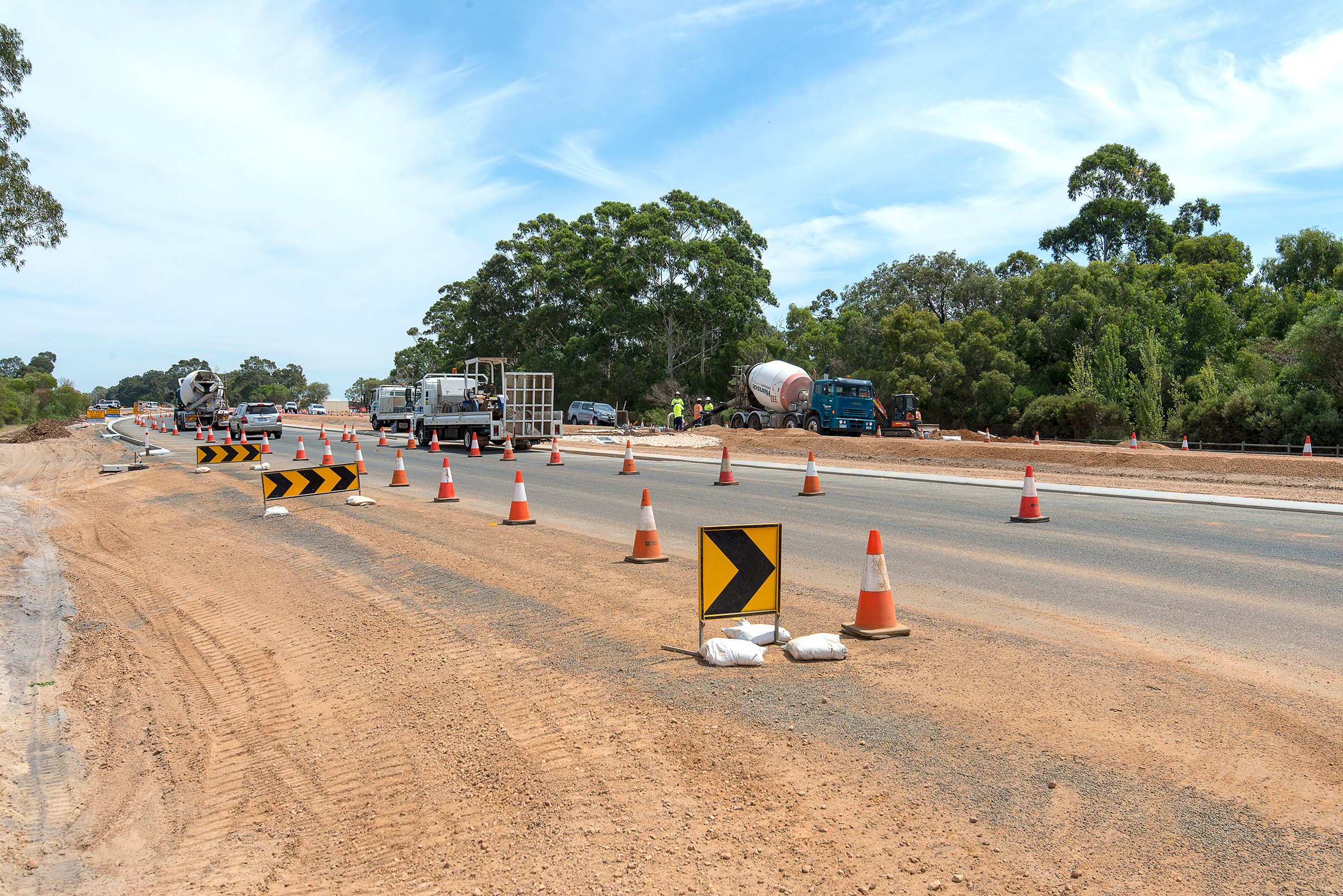 The 46 km section of Bussell Highway between Bunbury and Busselton is a four-lane dual carriageway. This means there are two lanes travelling in each direction and the two directions are separated by a central median.
There is 17 km section between Capel and Busselton, which is a two lane, single carriageway with passing lanes at approximately 5 km intervals in each direction. Traffic volumes in this section exceed the capacity of the single carriageway section at times resulting in congestion and delays.

A single carriageway means that there is nothing dividing the road between the two directions of traffic. This type of road can increase the likelihood of head-on collisions and crashes caused by risky overtaking.

On Friday afternoons, due to the large southbound traffic volumes attempting to merge from two lanes, it is common for a queue of traffic to form southbound where the dual carriageway ends just south of Capel.

The queue often extends through intersections that provide access into the Capel townsite, causing inconvenience and safety concerns for local traffic. Similarly, high traffic volumes heading north towards Perth after a long weekend are experienced.

Completion of the dual carriageway involves:
Stage One (South of Spurr Street to Hutton Road): A 5 km second carriageway including reconstruction of part of the existing carriageway.

Stage Two (Hutton Road to Busselton): A 12 km second carriageway, including three bridges.
Construction of the new lanes nearing completion
Due to the recent heavy rains, finishing work for Stage One has been delayed.
Over the next few weeks, we will continue to undertake basecourse and surfacing work, kerbing and the installation of signs, barriers and guardrails.
The safety of workers and road users is our highest priority. Please approach the work site with caution, stay alert, follow traffic management signs and traffic controller directions.
Tuart Drive remains closed at Bussell Highway in both directions. This closure is in place until project completion. For the latest traffic impacts and to plan your drive, visit our Travel Map.
Preparation work for Stage Two of the project is continuing. Clearing has started, along with earthworks to enable construction of the first 4km section of Stage Two.
January 2020: Preloading work for Stage One completed
October 2020: Construction of Stage One begins
August 2021: Early works for Stage Two start
Late 2021: Expected completion of Stage One
Project Updates
Subscribe to our email list for the latest project updates and announcements.
Subscribe
Page last reviewed:  | Last updated: