Tonkin Highway will be transformed to deliver a high standard, north-south transport link from Muchea to Mundijong.
The Tonkin Gap Project will address the current bottleneck where the highway reduces from three lanes to two lanes in Bayswater and Redcliffe, significantly reducing travel times and improving safety. We will also be making improvements to access and connectivity for road users, pedestrians and cyclists in the project area.

The Associated Works will provide rail-enabling works for the METRONET Morley-Ellenbrook Line along Tonkin Highway, including underpasses and dive structures, to enable trains to enter and travel along the median of Tonkin Highway then exit in Malaga. Road and bus bridges will be built at Broun Avenue to provide access to the future Morley Station.

The upgrades are expected to save road users up to 6 minutes of travel time during morning peak and up to 11 minutes of travel time during afternoon peak.
The preliminary concept includes:
Widening Tonkin Highway to provide

new

lanes in each direction from

Dunreath

Drive to Collier Road

, as well as new roads linking Guildford Road and Great Eastern Highway

New bridges over the Swan River,

Dunstone

Road,

Guildford Road, Railway Parade

New fully grade-separated

P

rincipal

S

hared

P

ath (PSP) on the western side of Tonkin Highway from north of Guildford Road interchange to approximately Stanton Road with local connections

Noise walls

Upgraded lighting and intelligent transport systems (ITS) infrastructure
Community Open House Event
Come and visit the design, construction and environmental teams from the Tonkin Gap Alliance. You will have the opportunity to see the latest designs for the project and ask any questions you might have.
When: Wednesday, 4 August
Where: Bayswater Drill Hall, Cnr Murray and Crowther St, Bayswater WA 6053
Time: Drop in any time between 3pm until 7pm
Upcoming Works
Works continue across various locations of the project. Road closure and impact information will be added to the Roadworks section below as details are finalised.
The 'super stage' is coming soon. In August there will be more temporary traffic changes along Tonkin Highway to allow rail-enabling works for Morley-Ellenbrook Line.
Tonkin Highway will be reduced to two through lanes, in both directions between Reid Highway and Collier Road until late 2022. Other changes include additional dedicated lanes between interchanges, speed reductions and new road alignment.
What is the 'super stage'? It is a single consistent traffic stage that will allow multiple areas to be worked on at the same time. This configuration will be in place for a longer time avoiding multiple different traffic arrangements throughout the project during the next year. For more information about these works, refer to the Super Stage Frequently Asked Questions (Word document, 6.87 MB)
Read more about what else is planned in our August Construction Update ( PDF, 933 KB)
Broun Avenue Works
Construction is well underway on both sides of Broun Avenue and in the median of Tonkin Highway to prepare for a new bridge over Tonkin Highway. The bridge will accommodate the new Morley Station – in the Tonkin Highway median and form part of the Morley-Ellenbrook Line.
Maintaining access for vehicles, cyclists and pedestrians across Broun Avenue will be priority during construction.
We understand that the skate park and BMX track is important to the community, and that's why we will maintain access during bridge construction.
To accommodate the works, we have closed a section of the Pedestrian Shared Path (PSP) between Tonkin Highway and Broun Avenue travelling northbound. Path users will be detoured via a temporary access off Tonkin Highway, along the top of the skate park/BMX track, over the side oval and then along the car park, back up to Broun Avenue (map of path below).

The small car park and access road to the skate park and BMX track is now closed. Skate park and BMX track users are required to park at the main car park and access the facilities via the temporary path. Learn more in the Broun Ave Bridge Fact Sheet (PDF, 902 KB).

From mid-August we will be working at night on Broun Avenue to realign the road so we can start temporary pavement construction north of Broun Avenue bridge. At this stage, the same number of lanes on Broun Avenue will remain.
Preparing for noise wall construction
Extensive noise modelling has been undertaken during the project design phase. From the noise modelling, some areas on Tonkin Highway between Dunreath Drive and Guildford Road require noise walls.
Noise walls near residential properties are now confirmed at the locations below (map 1). Next month, we will start construction behind Wyatt Road, followed by River Road. The noise walls at road level will be built once the new bridges and roads are complete. We will keep you posted on the final noise wall designs.
We thank Bayswater residents for your patience while we have been working behind properties to prepare for noise wall construction.


For more information on noise walls, please refer to our Noise Wall Frequently Asked Questions.
Guildford Road and Railway Parade works push ahead
The rain hasn't stopped us working at Guildford Road and Railway Parade. To build the new bridges on Railway Parade, we need to lower the power lines so we can lift bridge beams into place.
The Midland rail line will be shut from Friday evening 13 August to last service Sunday 15 August to reposition the overhead line equipment. This will allow us to lift bridge beams into place later this year. Stay up to date on this closure on the TransPerth page.
Redcliffe Bridge Construction

Work has started to upgrade Redcliffe Bridge to accommodate eight lanes of traffic and build a new western bridge with two additional lanes. The new bridge over Swan River will be built in-situ on a concrete casting bed and incrementally launched across the Swan River from the south-west side of Redcliffe Bridge during the next 18 months.
During construction, the river will always remain open to river users.
For more information, please read our Fact Sheet on the Redcliffe Bridge construction (Word doc).
Short-term impacts
Tonkin Highway between Dunreath Drive and Great Eastern Highway
Ongoing to late August, 9pm to 5am
Intermittent northbound lane and ramp closures
Barrier installation and line marking works
8 August, 7pm to 5am
Southbound lane closure
Great Eastern Highway on-ramp to Tonkin Highway southbound. View detour map (PDF).
Barrier installation and line marking works
Tonkin Highway between Collier Road and Reid Highway
Ongoing to late August, 8pm to 4am
Intermittent southbound lane and ramp closures
Collier Road off-ramp from Tonkin Highway southbound. View detour map (PDF).
Barrier installation and line marking works.
Ongoing to late August, 7pm to 6am
Intermittent northbound lane and ramp closures
Barrier installation and line marking works
Great Eastern Highway between Lyall Street and Morrison Street
Ongoing to early September, 24 hours
Lane closures in both directions
U-turn on Great Eastern Highway after Lyall Street not permitted
Right turn into businesses and Ascot Apartments will be maintained
Services works
Railway Parade between Clavering Road and Wicks Street
Long-term impacts
Tonkin Highway between Collier Road and Reid Highway
From August 2021 to late 2022, 24 hours
Reduced to two through lanes with additional dedicated lanes between interchanges and speed reductions.
Rail-enabling works for Morley-Ellenbrook Line.
Dunstone Road
Closed - from 17 May 2021 to December 2021
Local resident access and pedestrian and cyclist access will be maintained
Bridge construction works
Learn more about why we're closing this road in the Dunstone Road Frequently Asked Questions (PDF).
Railway Parade between Clavering Road and Wicks Street
Ongoing to late September, 24 hours
Lane width reductions in both directions
Bridge works
Path impacts
Tonkin Highway and Broun Avenue intersection
From 5 July to late 2023
Sections of shared path near Broun Avenue closed.
Follow signed detours


Tonkin Highway between Great Eastern Highway and Dunstone Road
Ongoing until project completion
Closed. Follow signed detours
Tonkin Highway between Collier Road and Guildford Road
From 7 April to late 2022
Closed. Follow signed detours to the western side of Tonkin Highway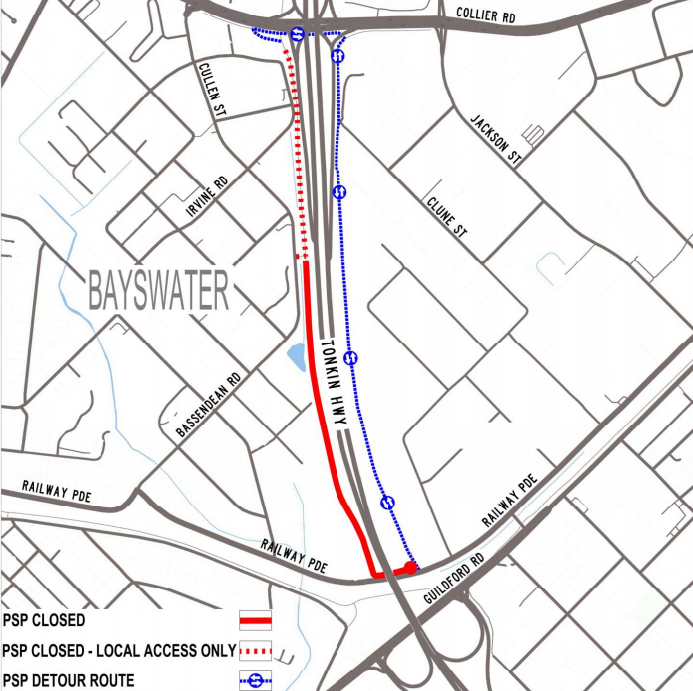 Tonkin Highway between Parkview Parade and Victoria Street Footbridge
From 19 April to late-2023
Guildford Road near Tonkin Highway
Ongoing until project completion
Closed. Follow signed detours to the northern side of Guildford Road
We are collaborating with local government, Department of Transport and WestCycle as part of the design process.
This is a very constrained site and there is no way we can build the required infrastructure without clearing vegetation. However, we are committed to minimising the extent of clearing and are exploring opportunities for local and regional environmental offsets. Any clearing will also be undertaken with appropriate State and Federal government approvals.

Where an area of ground is disturbed and not finished with a sealed surface, such as asphalt, revegetation works will be undertaken. This will include a variety of native vegetation species, including trees.

Project approvals from environmental regulators including the Environmental Protection Authority of WA (EPA), Department of Water and Environment Regulation, Commonwealth Department of Agriculture, Water and the Environment has been obtained for the project. All relevant works approvals from appropriate agencies including Department of Biodiversity Conservation and Attraction, where the Swan River Trust is housed, Department of Water and Environmental Regulation for groundwater and contamination issues and local government authorities for out of hours approvals will be sought.
Flora and Fauna
Environmental consultants were engaged to complete a comprehensive Environmental Impact Assessment (EIA) for the Tonkin Gap Project, which included the Swan River and land within the road reserve on both sides of the Swan River within the alignment of Tonkin Highway.
The assessment included a detailed flora and vegetation assessment, a Black Cockatoo and fauna habitat assessment including inspection of mature trees to record habitat and breeding trees suitable for use by Black Cockatoo species, and a water insect, water and sediment survey of the Swan River. While potential Black Cockatoo nesting trees were identified during surveys, none with suitable hollows were found.
We would prefer not to have any impact on nesting cockatoos. We will be looking for all potential solutions to avoid this. Where we do need to remove such a tree, our Environment Team will inspect the trees prior to check if any cockatoos are nesting and relocate if necessary. We are consulting with community before vegetation within the project area is cleared.

The Tonkin Gap Project was referred to the WA Environmental Protection Authority (EPA) and the Commonwealth Department of Agriculture, Water and the Environment (DAWE) in 2019, and both the EPA and DAWE determined that the potential impacts of the project are not significant and does not require further assessment.
Park and foreshore changes
An area of Selby Park has always been reserved for a Tonkin Highway upgrade under the State Government's Metropolitan Region Scheme (MRS). This will be required to build the new loop ramp from Great Eastern Highway. We are working closely with the City of Belmont to minimise the impact and determine how best to reinstate the park at the conclusion of the works.
We have identified an area under the Redcliffe Bridge, on the City of Bayswater side, that we could enhance. We are already working with the City of Bayswater and other State Government agencies to consider opportunities in this location. Suggestions from stakeholders and the community have included a skate park, fishing platforms and shared path facilities. Further consultation with local government, stakeholders and the community will be undertaken.

Heritage
We aim to avoid, minimise, and reduce our negative impacts to Aboriginal heritage sites wherever practicable, in line with Main Roads' commitment to recognising Aboriginal Heritage.
For this project, we conducted a heritage survey and two sites of cultural significance were identified within the works area:
The Derbarl Yerrigan (Swan River)
Two River Gum trees each with a single cultural scar
The Derbarl Yerrigan is said to have been created by the Wagyl, a spiritual being often described as a serpent or snake, who still resides in the river systems. It represents cultural continuity and is incorporated in many language groups oral histories.
Scar Trees are the result of removing parts of the tree to make objects and artefacts, representing the traditional knowledge of the Whadjuk people. This provides an indication to the ancestral occupation and use of the area's resources.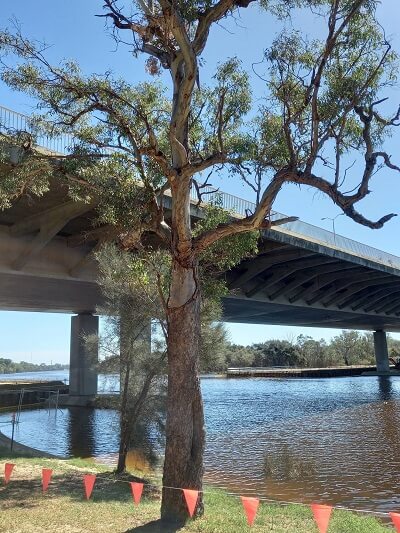 The input and contribution of Traditional Owners are valued, and we are seeking advice and opinions from Whadjuk Traditional Owners on this project.
For example, when disturbing any ground near, or in, the Derbarl Yerrigan we have employed Whadjuk Heritage Monitors. Their role on the project is to observe ground disturbance as it is occurring to prevent possible harm to Aboriginal heritage.
We will also be incorporating Aboriginal urban design within areas of the project, including under the Redcliffe Bridge, Great Eastern Highway and Guildford Road underpasses.
Have your say
As a key focus area for the project, we are asking our community to share their thoughts, ideas and suggestions as to how we can better embed sustainability into the project by completing our sustainability survey (PDF). Once completed, please email to enquiries@mainroads.wa.gov.au with the subject line 'Tonkin Gap Sustainability'.

Download the Sustainability Survey (PDF)
What is Infrastructure Sustainability?
Infrastructure sustainability is infrastructure that is designed, constructed and operated to optimise environmental, social and economic outcomes of the long term.
To support our commitment to driving positive sustainable outcomes, we are applying the (ISCA) V2.0 Infrastructure Sustainability (IS) rating framework for the design and construction phases of this project to assess the project.
This is an industry-benchmarking tool that has been developed in consultation with the industry to embed sustainable practices in every aspect of infrastructure design, construction and operation. The process is evidence based and we will provide the full assessment to ISCA at the end of each phase to be independent verified by a third party. Following this, the project will be awarded with a certification and rating which can be assessed against other major infrastructure projects across Australia.
Our Sustainability Commitment
Sustainability is a key focus for the project that we have considered during the design and construction phase of the project. We have developed a Tonkin Gap Project & Associated Works Sustainability Policy (PDF) to reflect our commitment to addressing sustainability issues including growth and economic benefit, efficient resource use, sustainable procurement, and community and stakeholder influence.
Project Objectives and Targets
We have used the United Nations' (UN) Sustainable Development Goals (SDG) to guide the consideration of key focus areas of sustainability for the project. An internal multi-disciplinary team has developed Sustainability Focus Areas (PDF) from key sustainability issues on the project. These focus areas help guide the identification of key risks and opportunities for the project.
From these objectives we have also identified sustainability targets (Word document) to ensure sustainability is front of mind during design, construction and operation. We will be monitoring our achievement as the project progresses.
Sustainable Development Goals
We measure and track our sustainability performance against the UN Sustainable Development Goals (SDG). The SDG are the blueprint to achieve a better and more sustainable future for all. They address the global challenges we face, including poverty, inequality, climate change, environmental degradation, peace and justice.
This information sheet (PDF) summarises what you need to know about how the project aligns with the global sustainability agenda. The goals are also linked to our project sustainability objectives (PDF).
We will be engaging with local government, stakeholders, residents and businesses as we progress the detailed design, from mid-2020.
Opportunities to participate in consultation activities will be advertised to our project subscribers. Subscribe to project updates here.

A noise wall is a structure built between the road and a residential property. It improves amenity for surrounding residents by reflecting sound waves from the road, forcing sound to travel over and around the edges of the walls, thereby reducing the amount of noise that reaches nearby homes.
Screen walls protect residents' privacy from passing traffic at the rear of their property only. We will consider screen walls in cases where the construction has reduced the existing level of privacy.
As part of this project, we expect to build noise or screen walls adjacent to most residential areas. The design and location of these will be finalised as part of the detailed design process. We have done noise modelling across the project area and noise mitigation would apply for areas that will be impacted by noise. We will ensure our noise mitigation meets the State Planning Policy 5.4 guidelines for acceptable noise levels.

If we need to construct noise or screen walls on property boundaries, the contractor will engage with individual property owners.

The team is still in early stages of design, but we are looking at options to reduce the noise from Redcliffe Bridge, which may include noise walls. We will continue to discuss options with the community while we work through this process.
Property Condition Surveys
If your property falls within the area that meets the criteria for a survey, you will receive a letter in the mail. If you believe your property has been damaged and you are not eligible for a property survey, please contact our team.
Dust and Vibration
You might feel vibrations and experience noise, but we will work with you to reduce noise impacts as much as possible – including considering the hours we work, type of equipment and machinery we use and noise walls. We have dust mitigation strategies to reduce the impact of dust on residents and businesses – including water carts, street sweepers and dust suppressants.

Road trains will continue to use Tonkin Highway. There are no current plans to revise the RAV access network arrangements.
2019-20: Planning and development
2020-21: Detailed design
October 2020: Early work activities begin (site preparation and infill works)
January 2021: Construction begins
Associated works
November 2020: Rail-enabling works commence for the Morley-Ellenbrook Line
Project and construction updates
Project information
Media Statements
​Funding
Jointly funded by the Australian ($232 million) and Western Australian Government ($58 million).
Alleviate pressure on the transport network
Improve safety and connectivity
You're Invited
Community Open House Event
See the latest designs and ask our team any questions on Wednesday 4 August between 3pm and 7pm. Visit us at the Bayswater Drill Hall at Cnr Murray and Crowther St, Bayswater WA 6053.
Subscribe to project updates
Subscribe to our email list for the latest project updates and announcements.
Subscribe
Procurement
Companies who wish to provide goods or services to Tonkin Gap will need to align with our commitments and complete a form below to be considered. A pre-qualification process may be requested following evaluation.
Page last reviewed:  | Last updated: