Update on Temporary Crossings at Fitzroy
Road users in the Kimberley region are advised changes to the access on Great Northern Highway in Fitzroy Crossing over the Fitzroy River will take place next week.
Published: 11 September 2023, Updated: 11 September 2023
The two-lane low-level crossing, currently used by all vehicles and pedestrians to get across the Fitzroy River, will be closed from 7am Wednesday 13 September ahead of its staged removal from the river to enable crucial embankment works for the new bridge and Fitzroy Lodge to occur before the wet season.
All traffic will be detoured onto the recently upgraded single lane crossing, four kilometres upstream of the new Fitzroy River Bridge via Forrest Road, Russ Road and Yurabi Road.
The detour will be accessible 24 hours a day for all vehicles with the exception of road trains and Over Size Over Mass (OSOM) over 20 metres who for safety reasons can only access the detour between daylight hours of 6.30am and 5.30pm.
Road Trains and OSOM vehicles over 20 metres long arriving outside of these hours will be required to park up at the road train break down areas on either side of the Road Train Assembly Areas on Great Northern Highway.
These changes will remain in place until river levels rise later in the year and the single lane crossing is overtopped later in the year.
Once water levels reach a height for the river to be navigable, the barge ferry service will be reinstated to transport passengers and light vehicles across the river. Main Roads is also investigating options to accommodate the movement of freight vehicles across the river during the wet season.
The New Fitzroy River Bridge is on track to be fully operational in mid-2024.
For more information on the closure and restrictions for Road Trains and Over Size Over Mass vehicles visit Main Roads Travel Map.
DETOUR MAP: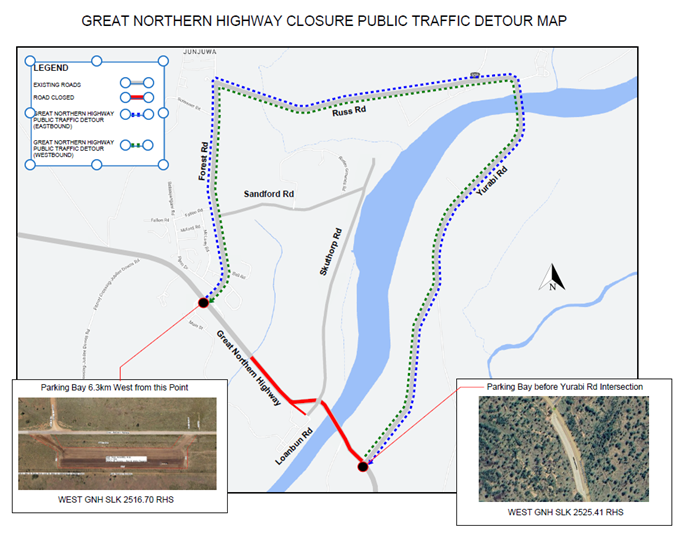 Main Roads Media Contact: 9323 5872
Back to News and media