That's a wrap for the Meet the Buyer and Supplier Forum 2023
The Transport Portfolio Meet the Buyer and Supplier Forum provided an energetic networking opportunity for Aboriginal businesses to meet the Transport Portfolio agencies and their major contractors earlier this week.
Published: 17 November 2023, Updated: 17 November 2023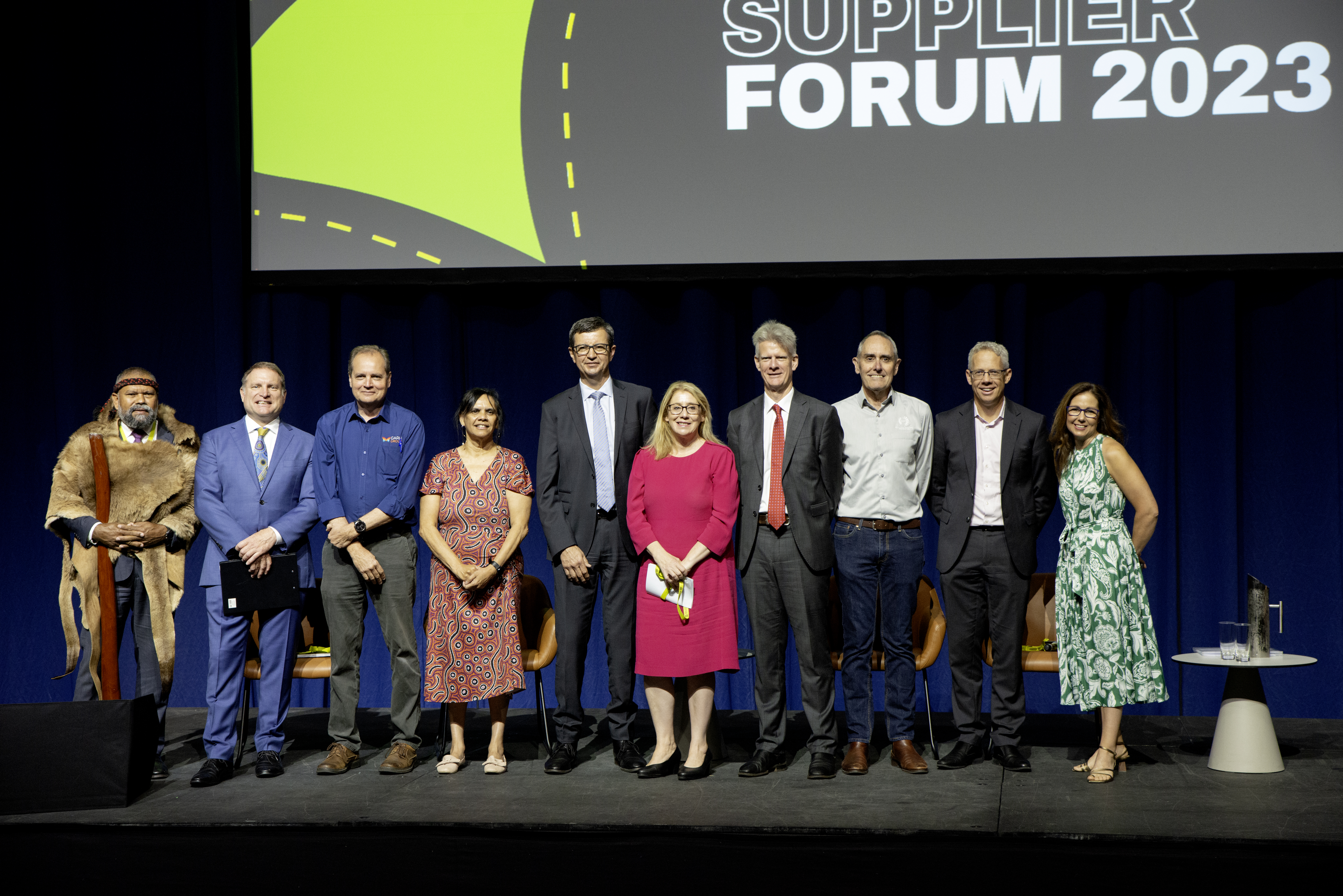 Barry Winmar (Whadjuk Noongar man, delivered the Welcome to Country), Adrian Barich (event MC), Darren Lundberg (CEO Garli), Tracey Dennis (CEO Engineering Aid Australia), John Erceg (Main Roads' Managing Director), Deputy Premier; Minister for Transport Hon Rita Saffioti MLA, Iain Cameron (Department of Transport Managing Director), Andy Graham (CEO Civil Construction Federation WA), Ashley Vincent (METRONET A/Managing Director,) Nicole Walton (AURECON, Bunbury Outer Ring Road project)
MC'd by an entertaining Adrian Barich, a moving Welcome to Country was delivered by Barry Winmar, a Whadjuk Noongar man with connections to the Ballardong region.
Key note speakers
A keynote address by Deputy Premier; Minister for Transport Hon Rita Saffioti MLA provided the opportunity to announce that the Portfolio has spent $373.6 million both directly and indirectly with Aboriginal businesses; and 1.8 million hours were worked by Aboriginal people to date.
The Deputy Premier highlighted several success stories from the Portfolio's construction projects across the State that have produced outstanding outcomes for the engagement of Aboriginal peoples and businesses, whilst sharing some of her own experiences with regional Aboriginal peoples and the barriers they have faced to finding localised work.
John Erceg, Managing Director Main Roads provided an overview of the Transport Portfolio infrastructure delivery programs, explained some of the pathways in which Aboriginal businesses can engage with its agencies and projects, and highlighted the success to date with the insourcing maintenance programs that have seen 300 staff transitioned to employment with Main Roads, enables the agency to drive jobs and economic growth in the regions, and enhances local Aboriginal employment and engagement outcomes.
Contracts directly awarded to Aboriginal businesses arising from the transition to inhouse maintenance are valued at approximately $37.8 million to date. John noted that Aboriginal businesses are also on a number of panel contracts for plant hire, labour hire and vegetation control.
Business collaboration case study
A video showcasing the ten year anniversary of Main Roads' contracting relationship with Kulbardi, was shown. Kulbardi was an emerging Aborigianl business when it first made contact with Main Roads, and is now Australia's largest Indigenous-owned holistic workplace supplier.
Q&A Panel
Utilising the platform Slido, the audience could scan a QR code to ask questions of a representative Panel. This provoked many insightful queries from the very engaged audience of 400 participants who were keen to understand the support available for Aboriginal businesses interested in working with the Transport sector; the challenges faced by an emerging Aboriginal business and how they were overcome; and more about the continuity of the work once some of the larger infrastructure projects are completed.
The Panel comprised a balance of industry and agency representatives to answer the questions:
John Erceg, Managing Director, Main Roads
Ashley Vincent, Managing Director METRONET
Nicole Walton, Bunbury Outer Ring Road Project (Yaka Dandjoo Program)
Tracey Dennis, CEO Engineering Aid Australia (coordinates the Indigenous Australian Engineering Schools Program)
Darren Lundberg, Yamatji man, Managing Director of Garli, an Aboriginal owned business
Andy Graham, CEO, Civil Contractors Federation of WA
Given the quantity of questions, a summary of unanswered questions and responses will be sent to participants over the next fortnight.
Exhibition forum
The Q&A Panel was followed by an exhibition in which 35 Buyers (contractors), and three Aboriginal business support organisations hosted exhibition booths.
This provided an opportunity for the more than 300 Aboriginal business representatives to circulate, meet the Buyers and talk through their business capabilities and potential alignment for works packages.
The event was designed to provide a networking opportunity for Aboriginal businesses to meet contractors within the Transport sector, to understand their needs and seek to align their capabilities for the future pipeline of work.
Very positive feedback was received throughout the event, with participants pleased to see the collaboration and support shown from the Transport Portfolio and its industry contracting partners.
Back to News and media
Page last reviewed:  | Last updated: